Location Summary
Habitat & Range:

 A California native found in woodlands of the foothills & valleys of the Coast Ranges, Sierra Nevada, & Tehachapi Mountains.  Can grow in riparian zones or on dry, hot slopes below
Elevation:

 0 – 5,500 ft.
Identification Characteristics
Size:

 Either a large shrub or small tree.  Mature plants are typically 3.5 m (12 ft) to 9 m (30 ft.) tall & 10 cm (4 in) to 15 cm (6 in.) in diameter.  The largest grows in Walnut Creek & is 14.6 m (48 ft.) tall & 1.4 m (55 in.) in diameter.
Shape:

 Erect, single or multi-stemmed.
   

Above:

 Crowns are flat topped to rounded & very broad. There is sufficient evidence that these trees were meticulously pruned as prized food sources among Native American peoples.

Lifespan:

 At least 200 years.
Leaves:

 Deciduous, opposite, & palmately compound.  Between 5 & 7 serrated, oblong to lance-shaped leaflets.  Each leaflet is 7.5 cm (3 in.) to 15 cm (6 in.) long.  Petioles are 1 cm (.4 in.) to 11 cm (4.5 in.) long.  California Buckeye is a summer-deciduous, losing its leaves in mid to late summer.  

Inflorescences:

 form erect, showy-clusters that measure 15 c. (6 in.) to 25 cm (10 in.) long.
Flowers:
Fruits:

  In September, California Buckeyes can have many large, pendant (dangling), pear-shaped fruits.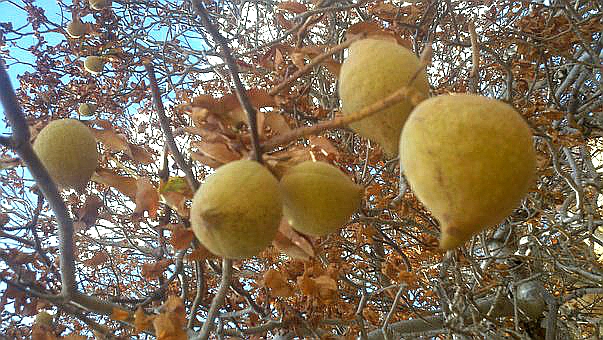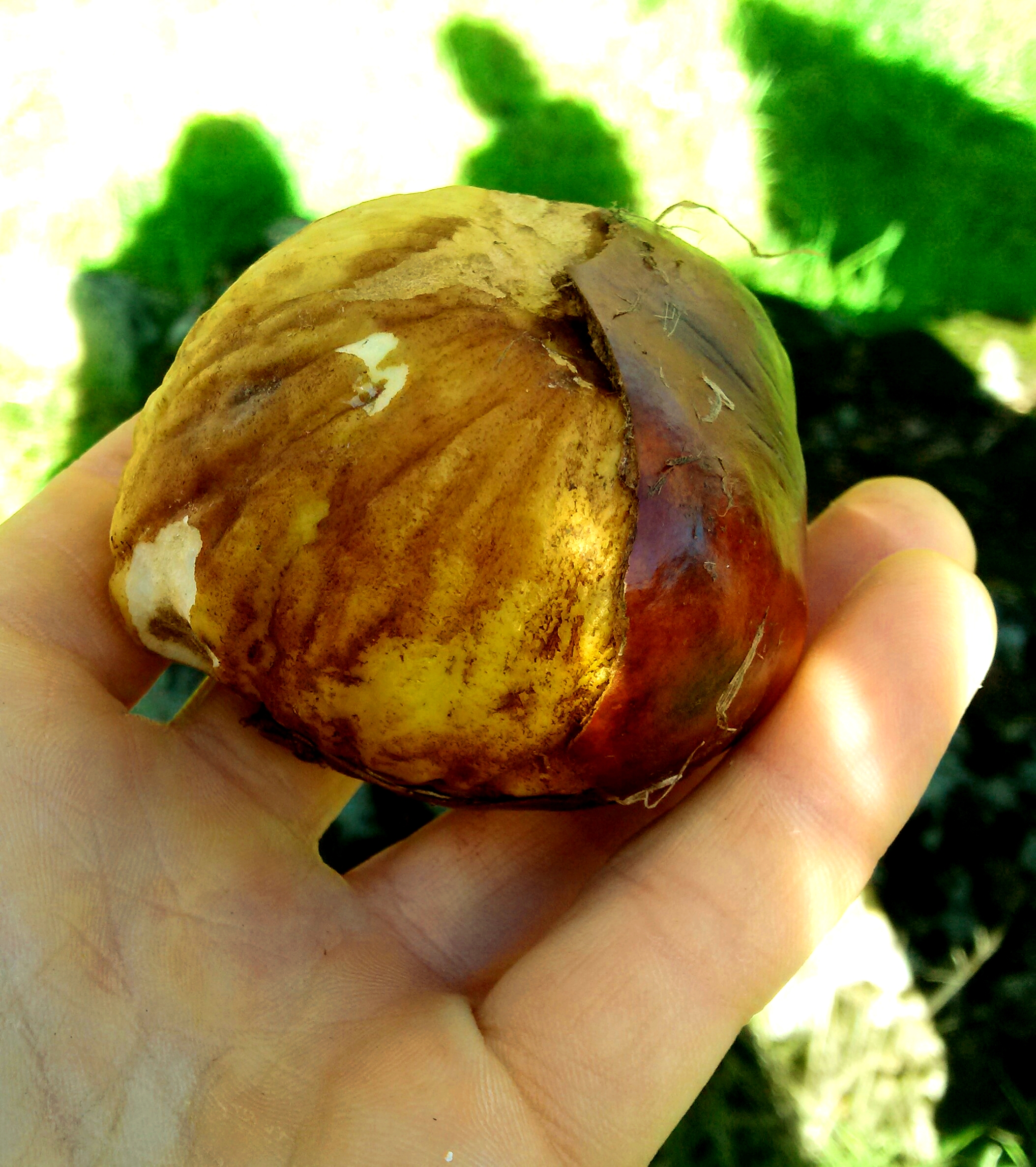 Bark:

 Smooth & grayish-white.

Positive-Impact Harvesting Techniques
   The tree sprouts from its base following injury.  The nuts can be planted, & take quite well from sprouting.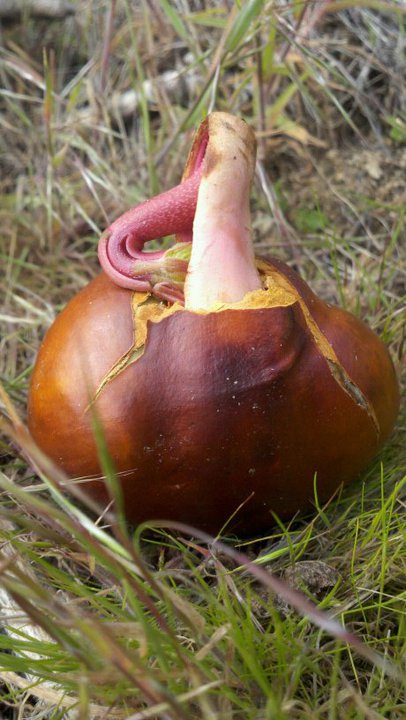 Food, Utility, & Traditional Medicinal Uses
Food
CAUTION:

  All parts of this tree are toxic to humans, wildlife, & livestock if eaten raw!  They contain glycosidal compounds (a chemical called "aesculen" that is also found in the name of the tree- "Aescules californica") that affect red blood cells & the central nervous system.
The

nuts

, however,

 

can be processed into a very nutritious food

. To do so:
de-shell & then cut them into quarters.

Put them into a

 Steam Pit for 24 hours or until they have the consistency of boiled potatoes.

After slicing them into chips, put them into a burlap or nylon bag

—or something similar which will allow running water to pass through—& then into a well-moving river to leach out the chemical Aesculen (which makes the nuts poisonous when raw).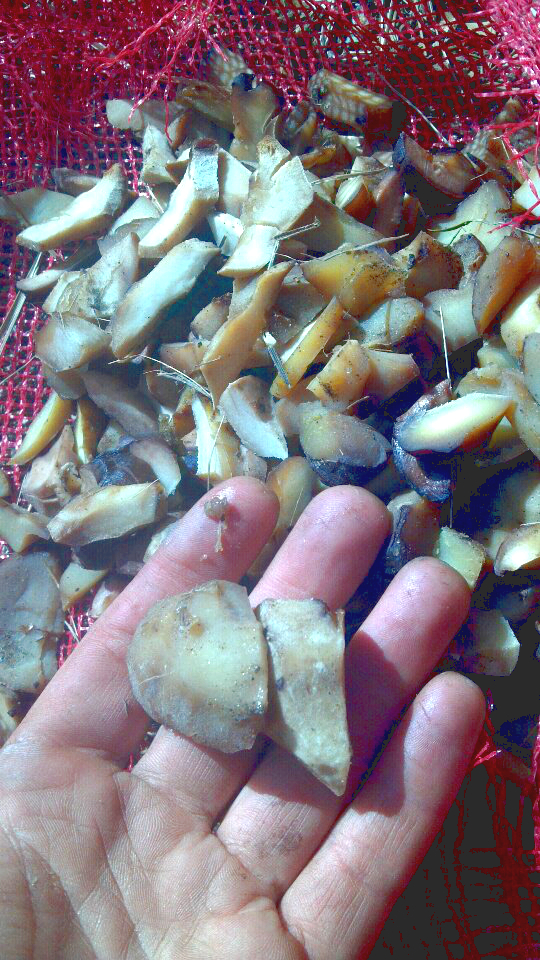 4.  Leave the nuts in the river for 3-5 days, kneading the bag each day so that the soft nuts don't clump together too tightly for water to pass through, to ensure that all of the aesculen has been removed.  NOTE: When the nuts are steamed in the steam pit, much of the aesculen is released, & the molecules separate enough that water is able to pass through these otherwise dense nuts. In a well-moving stream, nuts that have been steamed in this way will not harm fish or other wildlife.
5.  Toast them or dry them on a clean rock in the sun

& they can be used as flour that has a higher starch content than potatoes.
   Bearing a large food nut, these trees are a valuable food source. When compared to hauling smaller nuts from across the planet (cashews, etc.), processing these requires little energy when using traditional techniques.
Bibliography: Richard Lonewolf's Wilderness Survival Manual, Trees and Shrubs of California by John D. Stuart & John O. Sawyer & Illustrated by Andrea J. Pickart,
Database Entry & Photos: Distance Everheart 5-6-13, 11-5-13, 12-21-13, 10-10-14